« Back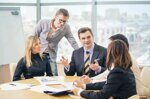 Subsidiary responsibility of the director of the company for debts and loss
17.07.2019 05:17
Russian legislation provides for additional liability of the Director and other controlling persons for the company's debts.
This liability is possible in the absence of funds from the company.
As debt collection of the company from the Director and other controlling persons has features, our company is ready to consult you on this matter.
Paragraph 3. Article 53 of the Civil Code of the Russian Federation says that the person which is a part of bodies of legal entity is obliged to act for the benefit of the legal entity honestly and reasonably. In case of violation of this duty the director upon the demand of the legal entity and (or) his founders (participants) to whom the law presented the right for presentation of the relevant requirement has to pay the damages caused to the legal entity by such violation.
Subsidiary responsibility of the director according to the law arises only in the presence of losses at the founded company. If there are enough assets for meeting requirements of creditors, then nobody can be brought to subsidiary responsibility. At the same time it is necessary to understand that the director cannot be made responsible if the decisions made by him did not go beyond usual business (enterprise) risk.
The dishonesty of actions (inaction) of the director is taken for granted including if the director knew or had to know that his action (inaction) at the time of their commission were not equitable to the interests of the legal entity, for example made the transaction with obviously incapable to fulfill the obligation the person ("Short-lived Firm", etc.)
The unreasonableness of action (inaction) of the director is taken for granted in particular, when the director made the transaction without observance of the internal procedures which are usually required or adopted in this legal entity for commission of similar transactions (for example, coordination with legal department, accounts department, etc.)
In case of unfair and (or) unreasonable implementation of obligations for the choice and control of actions (inaction) of representatives, contractors under civil contracts, employees of legal entity and also an inadequate control system of the legal entity the director answers to the legal entity for the losses (Paragraph 3 of Article 53 of the Civil Code of the Russian Federation) caused as a result of it.
Important: the rationality at execution of the duties assigned to the director consists in acceptance of necessary and sufficient measures by it for achievement of the goals of activity which the legal entity is created, including in appropriate execution of the public duties by the current legislation it is as well about payment of taxes by the legal entity. At emergence of losses in this value they can be collected from the director.
We gave only special cases of prosecution of the persons which are a part of bodies of legal entity above. A circle of the bases it is rather wide in realty
Romanchuk L.E.